シェアする
知能コミュニケーション研究室のNurul Fithria Lubisさん(研究生)が、2014 IEEE Spoken Language Technology Workshopにおいて、Best Rated Poster Presentation Awardを受賞しました。(2014/12/10)
2014 IEEE Spoken Language Technology Workshop (SLT 2014) was held in South Lake Tahoe, California and Nevada, on Dec 7-10, 2014. The main theme of the workshop was "machine learning in spoken language technologies".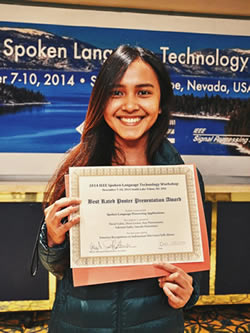 受賞者 Awardee
Nurul Fithria Lubis


研究テーマ Research theme
"EMOTION RECOGNITION ON INDONESIAN TELEVISION TALK SHOWS"
As interaction between human and computer continues to develop to the most natural form possible, it becomes more and more urgent to incorporate emotion in the equation. The field continues to develop, yet exploration of the subject in Indonesian is still very lacking. This paper presents the first study of emotion recognition in Indonesian, including the construction of the first emotionally colored speech corpus in the language, and the building of an emotion classifier through an optimized machine learning process. We construct our corpus using television talk show recordings in various topics of discussion, yielding colorful emotional utterances. In our machine learning experiment, we employ the support vector machine (SVM) algorithm with feature selection and parameter optimization to ensure the best resulting model possible. Evaluation of the experiment result shows recognition accuracy of 68.31% at best.



著者 Author
Nurul Lubis, Dessi Lestari, Ayu Purwarianti, Sakriani Sakti, Satoshi Nakamura

受賞についてのコメント Awardee's voice
A heartfelt thank you to all of my supervisors for the unyielding support. Research work is most fun when shared and I'm ecstatic to have my work recognized.